Parkitect is a Simulation and Time Management game for PC published by Texel Raptor in 2016. Build your own theme park with your facilities.
Parkitect PC Game 2016 Overview:
There will be an empty place to build this park at first. If you want to get new visitors so fast, You need to build a roller coaster for the visitors.
(v1.8p Update added)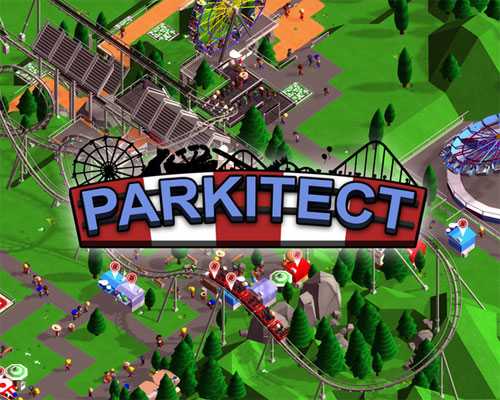 The roller coaster is one of the most important things in your theme park. Its rails can be customized by the players. The more space you create in your park's territory, The longer roller coaster rails you can have. There are other types of items that you can use to entertain the visitors. When a visitor enters your park, You get paid. So, If the number of them gets increased, You will earn more money. You shouldn't waste this money in useless parts of the park.
You can see which part is popular among people. So, You can improve that part with money. Your park needs to be decorated with natural things such as trees. So, Planting trees should be in your progress. There are some tools that can help the players do this faster. It's possible to purchase these tools in the store. You should have a good transportation system for the visitors inside the theme park. They don't want to wait for more than some minutes vainly.
Now, It's the time to build the park of your dreams at Parkitect. It doesn't matter how you build it. It should be enough entertainment for the people who visit this park for some hours.
Features of Parkitect:
Create your own theme park with the tools that you have
Build a roller coaster to entertain the visitors
Customize your park and decorate it to be attractive
Lots of items that can be used to make entertaining parts for the park
…
Minimum System Requirements:
OS: Windows Vista, Windows 7, Windows 8, Windows 10
Processor: 2.3 GHz Intel i5 or comparable
Memory: 2 GB RAM
Graphics: Anything made since 2004
DirectX: Version 9.0
Storage: 1 GB available space
…
File Size: 0.75 & 0.74 & 0.71 & 0.74 & 0.74 & 0.74 & 0.74 & 0.74 & 0.74 & 0.74 & 0.67 & 0.73 & 0.73 & 0.72 & 0.72 & 0.72 & 0.73 & 0.72 & 0.72 & 0.66 & 1.96 & 0.66 & 0.72 & 0.71 & 0.71 & 0.71 & 0.69 & 0.64 & 0.64 & 0.63 & 1.22 & 1.22 & 1.05 & 1.17 & 0.52 & 0.06 & 1.02 & 1.05 & 0.54 & 0.43 & 0.41 & 0.4 & 0.39 & 0.38 & 0.33 & 0.53 & 0.5 & 0.39 GB
Build 10242736 Direct Download Link
v1.5c Taste of Adventure DLC Direct Download Link (Needs the main game)
v1.5 Taste of Adventure DLC Direct Download Link
v1.4 Direct Download Link (Needs the main game)
File Password: www.freegamesdl.net