Foundation is a Simulation and Strategy game for PC published by Polymorph Games in 2018. It's the time to create your own village in medieval ages.
Foundation PC Game 2018 Overview:
There are lots of parameters that you have to know about ruling a village at this age. You will learn how to do it in tutorial parts at first.
(v1.9.2.6.0320 Update added)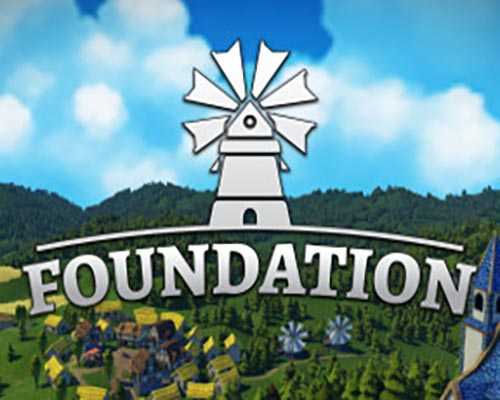 Foundation is a grid-less, sprawling medieval city building simulation with a heavy focus on organic development and monument creation. In this strategy city-builder economy simulation game, players must create a prosperous settlement as the newly appointed lord of a region untouched by man. Setting to redefine the city-builder genre, Foundation puts the emphasis on the organic aspects of urbanism in the cities of old, powered by Polymorph Games' proprietary game engine, Hurricane, which allows for full mod support and is optimized for the thousands of moving parts that come with building humongous cities.
Among other things, the engine provides the player with robust building tools to create countless unique monuments that can then be integrated into your settlement. With medieval architecture and urbanism at the forefront of its design, Foundation's vision is to allow players to recreate cities of that period as they envision them or even as they really were. Grow your untapped land into a great sprawling kingdom as you appease the political factions of your area, all while listening to a beautiful original soundtrack by the veteran composers who've created music for Paradox Interactive's Crusader Kings II, Europa Universalis IV, and The Guild 2-3 games!
It's good to know that Foundation is inspired by a game like Simcity, Crusader Kings, and Europa Universalis. If you like to have a great city, Don't miss the time.
Features of Foundation:
ORGANIC URBANISM OF THE MEDIEVAL ERA
LAY THE FOUNDATION, THRIVE, AND PROSPER
UNIQUE MONUMENT CREATION TOOL
POWERED BY OUR OWN HURRICANE GAME ENGINE
…
Minimum System Requirements:
Requires a 64-bit processor and operating system
OS: TBD
Processor: TBD
Memory: 8 GB RAM
Graphics: TBD
…
File Size: 2.29 & 1.54 & 2.28 & 1.54 & 1.53 & 1.53 & 1.51 & 2.24 & 2.25 & 1.51 & 1.48 & 1.48 & 1.49 & 1.36 & 1.36 & 1.11 & 1.12 & 1.24 & 1.18 & 0.91 & 0.86 & 0.86 & 0.91 & 0.90 & 0.89 & 0.85 & 0.85 & 0.94 & 0.85 & 0.91 & 0.91 & 0.91 & 0.84 & 0.84 & 0.72 & 0.72 & 0.91 & 0.69 & 0.52 GB
v1.9.2.6.0320 Direct Download Link
v1.9.2.4.0227 Direct Download Link
Build 10623459 Direct Download Link
v1.9.2.2.0220 Direct Download Link
v1.9.2.0.0216 Direct Download Link
v1.9.1.2.1221 Direct Download Link
v1.9.1.1.1216 Direct Download Link
v1.9.0.38 Direct Download Link
v1.9.0.37 Direct Download Link
v1.9.0.35 Direct Download Link
v1.9.0.34.1028 Direct Download Link
v1.9.0.33 Direct Download Link
v1.9.0.32 Direct Download Link
v1.9.0.22 Direct Download Link
v1.9.0.21 Minerals And Craftmanship Direct Download Link
v1.6.20.0814 Direct Download Link
File Password: www.freegamesdl.net