Spider Man 3 is an Action, Adventure, and Fighting game for PC published by Activision in 2007. The plot changes radically compared to the movie!
Spider Man 3 PC Game 2007 Overview:
The game is based on the homonymous movie Spider-Man 3 and gets its settings from the movie, the Spider-Man comics, and the Marvel Universe.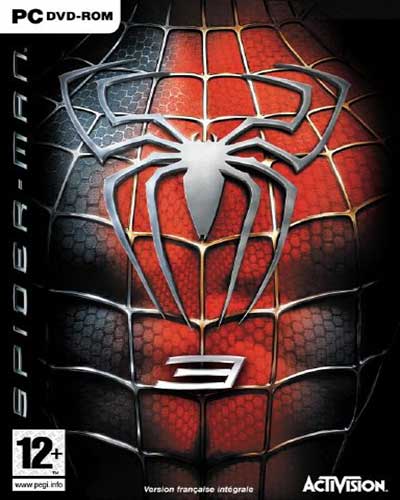 The game begins with Spider-Man swinging to a building in flames. Start a small tutorial and when you finish it, you continue advancing through the building defeating the arsonists and defusing the bombs. The level concludes by saving a girl about to be blown up by a bomb. Then it happens the next day. His best friend Harry Osborn doesn't talk to him anymore and he has a new rival at the Daily Bugle: Eddie Brock. Meanwhile, escaped convict Flint Marko falls into a reactor and turns to sand. A small meteor collides, with a symbiote inside.
Spider-Man takes Mary Jane Watson, his girlfriend, on a walk through the skies of Manhattan, and takes her to Central Park. Then, he tells her about Harry. Mary Jane comforts him; as they talk, the symbiote sticks to Peter's shoe. Meanwhile, Harry emerges from a chamber in the Green Goblin's lair, filled with Goblin gas. Now he is a new villain.
After visiting his science teacher, Dr. Connors, he turns into the Lizard by using a serum on himself to regenerate his right arm. The Lizard turns other people into lizards, then escapes down the sewers. Spider-Man follows him and defeats him, but the Lizard escapes through the sewers. Harry (now the New Goblin ) attacks Peter. They have a high-flying battle over the Goblin's speeder, but the Goblin is defeated and loses consciousness. Peter takes him to the hospital, where he is treated.
Features of Spider Man 3:
The game is full of humor and fun
Smooth gameplay
The story is interesting
…
Requested By Thunder-R
Minimum System Requirements:
CPU: Pentium 4/Athlon XP or better
CPU SPEED: 2.8 GHz
RAM: 1 GB for Windows 2000/XP or 1.5 GB for Windows Vista
OS: English version of Microsoft(R) Windows(R) 2000/XP/Vista
VIDEO CARD: 100% DirectX(R) 9.0c-compliant AGP/PCIe 256 MB onboard memory hardware T&L-capable video card with Shader Model 3.0 support and the latest drivers (NVIDIA GeForce 7300 GT+ / ATI Radeon X1300+)
TOTAL VIDEO RAM: 256 MB
VERTEX SHADER: 3.0
DIRECTX VERSION: DirectX 9.0c (included)
FREE DISK SPACE: 6 GB of uncompressed hard disk space (plus 600 MB for the Windows swap file)
…
File Size: 4.09 GB
File Password: www.freegamesdl.net