SGS Taipings is an Action, Adventure, and Strategy game for PC published by Avalon Digital in 2023. A war chess strategy game!
SGS Taipings PC Game 2023 Overview:
The game mainly takes a bit of time when the Taiping Army Uprising and the Qing Army confronted each other as the story background. It is divided into 6 scripts according to the difficulty of the time period.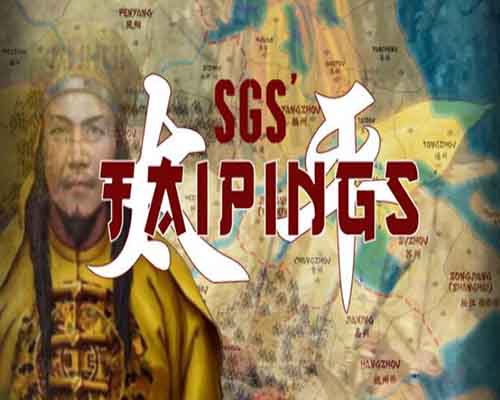 The game recreates the Taïping Rebellion of 1851-1864. it was one of the deadliest and most horrific civil wars in China, costing the lives of millions. Play the Taïping rebels and their allies, fighting to create their own state, or be the Qing Emperor and crush the revolt and its foreign devils allies before it topples your dynasty.
Between 1851 and 1864, China was engulfed in its most horrific – and deadly – civil war, the Taïping Rebellion, that cost the lives of millions of Chinese. In this game, you will play the rebellious troops of the 'Heavenly Kingdom' (a.k.a. the Taïping) and their other allies like the Nien bandits, against the Qing dynasty. Other rebellions and Foreign powers intervention will play a nuisance role on both sides.
Scenario durations last from 8 turns (for the smaller ones) to over 164 turns (the 13 years grand campaign), each representing a period of one month between April 1851 and December 1864. One player represents the Taïpings rebels and its allies, the other the Qing Empire various forces. Both have land and naval units under their command and can play some diplomatic game with foreign powers.
Features of SGS Taipings:
The Taiping goal is to establish a viable state and a strong army in the heart of China, and once they have gathered forces and encouraged other rebellions, crush the Qings before they realized the danger.
Use help from all sources to achieve surprise and success. Speed is of importance here, but leadership problems and internal feuds may be a real danger in the long run.
The Qings are unprepared for the rebellion and consider it a minor incident in remote areas of their huge empire. They must take conscience of the stakes as quickly as possible before the enemy becomes too powerful and unstoppable.
Troops are weak and spread out, leadership bad. Training of new forces, purchasing better weapons and hiring the right leaders is required, but this can only come when the Emperor realizes the situation (via the Qing's Imperial Concern index).
…
Minimum System Requirements:
OS: Windows 7/8/10+
Processor: 2.5 GHz Intel Dual Core
Memory: 4 GB RAM
Graphics: 512 MB NVIDIA GeForce 9600 or equivalent
DirectX: Version 9.0
Storage: 2 GB available space
Sound Card: DirectX Compatible
…
File Size: 1.09 GB
File Password: www.freegamesdl.net