Northgard is a Strategy and Simulation game for PC published by Shiro Games in 2017. Play as the leader of a viking group who have discovered a new land.
Northgard PC Game 2017 Overview:
They need to survive in this unknown land. You need to prepare food for them. It's possible to build lots of buildings by using woods and such resources.
(v3.0.20.30933 Update added)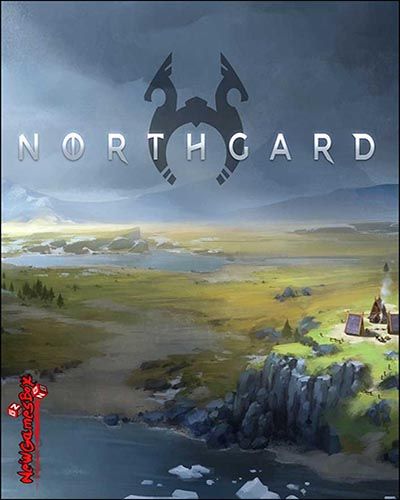 After years of tireless explorations, brave Vikings have discovered a new land filled with mystery, danger, and riches: Northgard. The boldest Northmen have set sail to explore and conquer these new shores, bring fame to their Clan and write history through conquest, trading, or devotion to the Gods. That is if they can survive the dire wolves and undead warriors roaming the land, befriend or defeat the giants, and survive the harshest winters ever witnessed in the North.
You can also Achieve different victory conditions (Conquest, Fame, Lore, Trading…). It's possible to play against an AI with different difficulty levels and personalities too.. This game throws challenges at you from both left and right, and you have to always be prepared because you never know what might happen! Your villagers might get sick, you might experience an earthquake and not have enough wood to save your building before they burn down, or you might be attacked by wild beasts, or Draugr and Valkyries
Features of Northgard:
Build your settlement on the newly discovered continent of Northgard
Assign your vikings to various jobs (Farmer, Warrior, Sailor, Loremaster…)
Manage your resources carefully and survive harsh winters and vicious foes
Expand and discover new territory with unique strategic opportunities
…
Minimum System Requirements:
OS: Windows Vista or better
Processor: Intel 2.0ghz Core 2 Duo or equivalent
Memory: 1 GB RAM
Graphics: Nvidia 450 GTS / Radeon HD 5750 or better
DirectX: Version 10
Storage: 400 MB available space
…
File Size: 1.35 & 0.95 & 1.28 & 1.26 & 0.89 & 1.29 & 0.89 & 1.02 & 0.98 & 0.78 & 0.69 & 0.98 & 0.95 & 0.67 & 0.73 & 0.73 & 0.69 & 0.69 & 0.69 & 0.68 & 0.67 & 0.67 & 1.08 & 1.04 & 1.04 & 0.94 & 0.95 & 0.94 & 0.94 & 0.94 & 1.07 & 1.09 & 0.89 & 0.96 & 0.91 & 0.91 & 0.91 & 0.76 & 0.76 & 0.62 & 0.63 & 0.59 & 0.51 & 0.41 & 0.42 & 0.38 GB
v3.0.20.30933 Direct Download Link
v3.0.19.30900 Direct Download Link
v3.0.17.30848 Direct Download Link
v3.0.15.30737 Direct Download Link
Cross of Vidar Expansion Pack Direct Download Link
v3.0.10.30418 Direct Download Link
v3.0.8.30292 Direct Download Link
v3.0.6.30068 Direct Download Link
The Viking Age Edition v2.9.17.28482 Direct Download Link
v2.9.15.28090 Direct Download Link
v2.9.13.27942 Direct Download Link
v2.9.5.27652 Direct Download Link
Hræsvelg Clan of the Eagle Direct Download Link
v2.8.37.27016 Direct Download Link
Brundr and Kaelinn Clan of the Lynx v2.8.33.26734 Direct Download Link
v2.8.31.26467 Direct Download Link
v2.8.30.26451 Direct Download Link
v2.8.23.26071 Direct Download Link
v2.7.20.25854 Direct Download Link
v2.7.16.25639 Direct Download Link
v2.7.5.24912 Direct Download Link
v2.6.3.23530 Direct Download Link
v2.5.24.22669 Direct Download Link
v2.5.22.22563 Direct Download Link
v2.4.22.20886 Direct Download Link
v2.4.22.20886 Direct Download Link
v2.4.12.20560 Direct Download Link
v2.4.1.20197 Direct Download Link 
v2.3.11.19712 Direct Download Link 
v2.3.10.19500 Direct Download Link 
v2.3.7.19337 Direct Download Link 
v2.3.6.19085 Direct Download Link 
v2.3.3.18896 Direct Download Link
v2.2.14.18559 Direct Download Link
v2.2.14.18421 Direct Download Link
v2.2.11.18203 Direct Download Link
v2.2.8.17656 Direct Download Link
v2.1.18.17094 Direct Download Link
v2.1.4.16950 Direct Download Link
v2.1.11.16725 Direct Download Link
2.1.0.16264 Himminbrjotir Clan of the Ox Direct Download Link
v1.8.6.14875 Direct Download Link
v1.4.10836 Ragnarok DLC Direct Download Link
v1.2.9182 Direct Download Link
v0.5.7644 Direct Download Link
v0.4.7090 Direct Download Link
v0.2.5876 Direct Download Link
v0.2.5549 Direct Download Link
v0.2.5032 Direct Download Link
File Password: www.freegamesdl.net