Home Wars is an Action, Adventure, and Strategy game for PC published by Insane Dreamers in 2017. Toy army vs insect army!
Home Wars PC Game 2017 Overview:
Our brave, plastic army must stop the invasion of insects. Get to their nest and destroy these critters once and for all.
(v1.027 – 617.74 MB Full Cracked)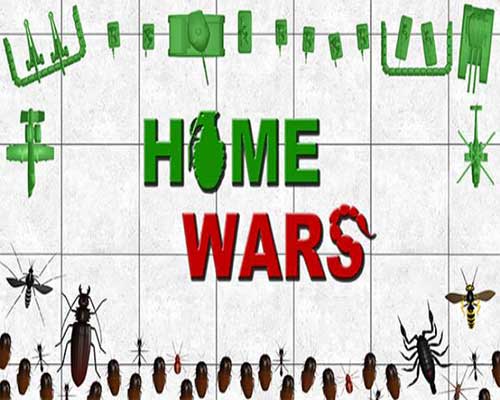 This game is launched through the green light of gg. It is a game developed by a small cost and small organization using the Unity engine. But this "
small
" game, the content is not small. Four playable battle maps, players and bugs each have no less than 50 optional units. A complete technology tree and a very mature resource management system sometimes make us not believe that this is a game developed by a small studio.
The creativity of the game is also very interesting. You need to control the toy army to resist the insects that invade your home. The insect swarm in this game is not the insect swarm in StarCraft, but the real insect swarm. At least three hundred insects appear on the same screen. From ants to cockroaches, mosquitoes, flies and bees flying in the sky, it looks disgusting.
And your army can only deploy 3/1 the number of insect swarms, so you have to use your technological advantages to flexibly use infantry, armed helicopters, various land vehicles, fighters, attack aircraft, strategic bombers and even armed hot air balloons. To form a three-in-one line of defense to counter the absolute number of bugs. What's even more surprising is that you can control any unit you deploy in the first person except for engineers, and you can even play as an airborne soldier and drop into the middle of the swarm by a transport plane, and experience the kind of being surrounded by a huge amount of bugs several times larger than yourself.
Features of Home Wars:
You have to build your main base in the style of total war.
You need to manage how much ammo you have in stocks.
The variety of units is great, there are few simple upgrades to unit stats and new units usually solve a slightly different role while being also stronger.
…
Requested By wolf
Minimum System Requirements:
OS: Windows 8.1 or Windows 10
Processor: 3.0 GHz
Memory: 4 GB RAM
Graphics: 2GB VRAM
Storage: 5 GB available space
…
File Size: 617.74 MB
File Password: www.freegamesdl.net