Goat Simulator 3 is an Action, Adventure, and Simulation game for PC published by Coffee Stain Publishing AB in 2022. headbutt, lick, and triple-jump!
Goat Simulator 3 PC Game 2022 Overview:
A totally new 3rd person sandbox adventure game in which you get to become the literal GOAT. Just like the first Goat Simulator.
(v1.0.1.3 Update added)
(v208081 – 2.59 GB Full Cracked)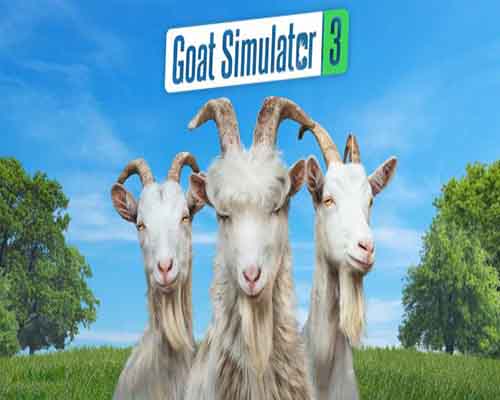 Goat Simulator 3 is another completely stupid game. Will this game teach you how to become one with your local herd? Probably not. Learning about real goats with David Attenborough or something would absolutely be the smarter thing to do. Pilgor's baaack!
Gather your herd and venture forth into Goat Simulator 3; an all-new, totally realistic, sandbox farmyard experience that puts you back in the hooves of no one's favourite female protagonist. That's right – we're doing this again. The baa has been raised, and Pilgor is joined by other goats too. You can invite up to three friends in local or online co-op, create carnage as a team, or compete in mini-games and then not be friends anymore.
Get ready for another round of udder mayhem. Lick, headbutt, and ruin your way through a brand new open world in the biggest waste of your time since Goat Simulator! We won't tell you how to play (except in the tutorial), but merely provide the means to be the goats of your dreams.
Features of Goat Simulator 3:
You can be a goat
Three of your friends can be goats too, and join you in local or online co-op
No really, there are so many goats. If you want to be fancy you can wear the skins of tall goats, stripey goats, and many more. There's a goat for everyone!
Or dress up your goat in all kinds of nonsense, from toilet rolls to tea trays. Put on a jetpack for all we care
This time we actually hired 'game designers' and we're told they've added 'an ok amount of content'; events, NPCs to mess with, physics, status effects, collectables, easter eggs, lies, betrayal, heartbreak
They've added mini-games too, lots of mini-games (seven is a lot, right?)
…
Minimum System Requirements:
OSWindows 10. OSWindows 10.
Processori5 4690k. Processori5 9400F.
Memory8GB. Memory16GB.
Storage12GB. Storage12GB.
Direct X11. Direct X11.
GraphicsGTX 1050 Ti (4GB VRAM) GraphicsGTX 1070 (8GB VRAM)
…
File Size: 2.59 & 2.58 & 2.58 & 2.59 GB
v1.0.1.3:
v1.0.1.2:
v1.0.1.1:
v208909:
v208769:
v208081:
File Password: www.freegamesdl.net